2012 Mid Atlantic Pet Expo Gerbil Show, Timonium MD
The 2012 MidAtlantic Gerbil Show
The show was held on January 28, 2012 at the World of Pets Expo in Timonium, Maryland.
This show concluded the end of my training to become an AGS Official Judge. I thoroughly enjoyed working with the other judges and found them to be very informative and knowledgeable.
I found this show to be particularly challenging due to its small size and expo style format. The competition was very tight with only 10 kennels and a limit of 8 gerbils each. This caused show goers to be very selective of whom they entered. Often the difference between first and second place were minor flaws and personality. A few stray white hairs, a stained belly, or greasy fur could be the deciding factor. Just as easily, a calm and alert gerbil would outshine a gerbil who was nervous.
The Best in Show was unusual to have seven females and only five males competing for BIS. I was thoroughly pleased to see that of the 12 gerbils competing for BIS six of them were either shown or bred by me. I did manage to complete two more championships. Although none of the ones I showed earned the title of BIS or BOS one of the males I co-bred with Donna did earn Best In Show. I exceptionally proud of Izzy! He takes after his mom, Lily of the Valley, a champion and Best in Show winner herself.
I'm thrilled that Jo has allowed me to bring him home and continue Lily's line here at Moonstone Gerbils before I return him to her at the New England Show this May.
Best in Show
BWC's ABC's So Totally Izod "Izzy"

(photo by Donna Anastasi)

MS's Lily of the Valley
Champion and Best in Show winner of New England 2010
MS's SprayPaint (picture taken by Agilitygirl)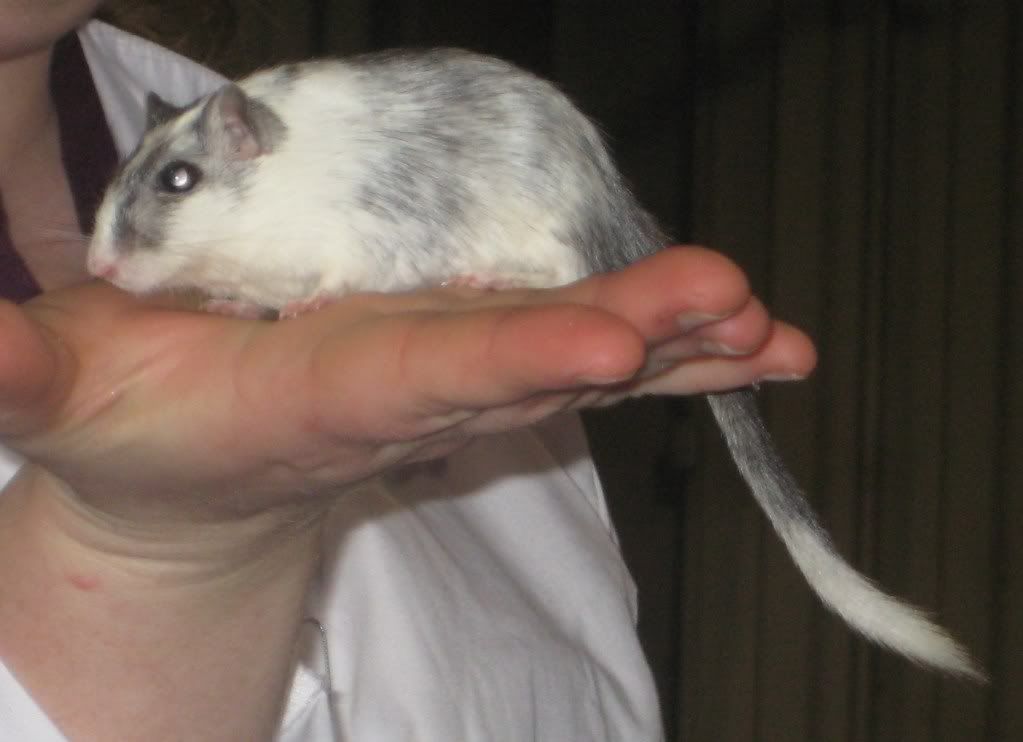 MS's Marble
MidAtlantic Gerbil Show 2012

Timonium, MD

Pups

1st
10 wk CPN M
Shown by Donna Anastasi of ABC Gerbils (NH)
BOS
9 wk Mot Black
Shown by Donna Anastasi of ABC Gerbils (NH)
2nd
11 wk Burmese Spot M
Shown by Bill Kemp of Kung Fu Gerbils (MA)
3rd
13 wk Siamese F
Shown by Libby Hanna of Shawsheen River Gerbils (MA)

Self Males

1st

BEST IN SHOW

CHAMPIONSHIP

BWC's ABC's So Totally Izod "Izzy"
1 yr Dove Male
Shown by Jo Kelley of Black Wolf Clan Gerbils (KY)

Bred by Donna Anastasi of ABC Gerbils (NH)

and by Katie Johnson of Moonstone Gerbils(MA)

2nd

CHAMPIONSHIP

BWC's Jace
1 yr SN M
Shown and Bred by Jo Kelley of Black Wolf Clan Gerbils (KY)
3rd
1 yr Nutmeg M
Shown by Jo Kelley of Black Wolf Clan Gerbils (KY)
HM
5 mo Blue M
Shown by Katie Johnson of Moonstone Gerbils (MA)

Self Females

1st
1 yr PEW F
Shown by Donna Anastasi of ABC Gerbils (NH)
2nd
1 yr Blue F
Shown by Libby Hanna of Shawsheen River Gerbils (MA)
3rd
6 mo Nutmeg
Shown by Donna Anastasi of ABC Gerbils (NH)
White Belly
1st

CHAMPIONSHIP

BWC's SRG's Teslin "Tessa"
1 yr Grey Agouti F
Shown by Jo Kelley of Black Wolf Clan Gerbils (KY)
Bred by Libby Hanna of Shawsheen River Gerbils (MA)
2nd
1 yr PF M
Shown by Jo Kelley of Black Wolf Clan Gerbils (KY)
3rd
4 mo Argente F
Shown by Bill Kemp of Kung Fu Gerbils (MA)

Color Point Males

1st

CHAMPIONSHIP

Parade's Vinny
1.5 yr Burmese M
Shown and bred by Rebecca Azer of Gerbil Parade (MA)
2nd
3 yr Siamese M
Shown by Katie Johnson of Moonstone Gerbils (MA)
3rd
2 yr Siamese M
Shown by Rebecca Azer of Gerbil Parade (MA)

Color Point Females

1st
6 mo Siamese F
Shown by Cathy Bickel of Gerbil Collective (MD)
Bred by Katie Johnson of Moonstone Gerbils (MA)
2nd
1 yr Burmese F
Shown by Sarah Terpning of Sunshine Gerbils (PA)
3rd

Athena

1 yr Burmese F

Shown by Sarah K. of (NJ)

Bred by Katie Johnson of Moonstone Gerbils (MA)

Other

1st
1 yr RES M
Shown by Katie Johnson of Moonstone Gerbils (MA)
BOS
2 yr Silver Point F
Shown by Sarah T. of Sunshine Gerbils (PA)
2nd
1.5 yr Schimmel M
Shown by Rebecca Ward of Rebecca Ward Gerbils (VA)
3rd
1 yr HC M
Shown by Katie Johnson of Moonstone Gerbils (MA)

Spot

1st

BEST OPPOSITE SEX

SRG's Svetlana
1 yr Blue Spot F
Shown and Bred by Libby Hanna of Shawsheen River Gerbils (MA)
2nd
2 yr Burmese spot F
Shown by Cathy Bickel of Gerbil Collective (MD)
Bred by Katie Johnson of Moonstone Gerbils (MA)
3rd
2 yr Grey agouti spot M
Shown by Rebecca Ward of Rebecca Ward Gerbils (VA)

Pied

1st
1.5 yr Pied Burmese M
Shown by Rebecca Azer of Gerbil Parade (MA)
BOS
2 yr Pied Burmese F
Shown by Rebecca Azer of Gerbil Parade (MA)
2nd
1 yr Pied Agouti M
Shown by Rebecca Azer of Gerbil Parade (MA)
3rd
6 mo Pied Black M
Shown by Jo Kelley of Black Wolf Clan Gerbils (KY)

Mottled

1st

CHAMPIONSHIP

MS's Spraypaint
2 yr Mot black M
Shown and bred by Katie Johnson of Moonstone Gerbils (MA)
BOS

CHAMPIONSHIP

MS's Marble
1 yr Mot black F
Shown and bred by Katie Johnson of Moonstone Gerbils (MA)
2nd
2 yr Mot black F
Shown by Rebecca Azer of Gerbil Parade (MA)
3rd
3.5 yr Mot black M
Shown by Libby Hanna of Shawsheen River Gerbils (MA)