Nutrition & Diet of Shaw's Jirds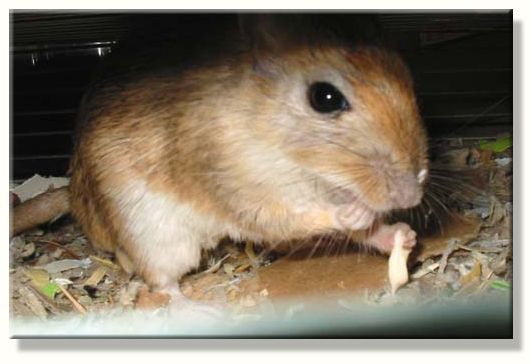 Egyptian Shaw's relishing a small piece of cheese
The Shaw's Jirds diet is relatively simple and can be met by any standard gerbil/hamster mix. If you so wished, the mix itself can be further modified at various times of the year. This can be done by adding a small amount of smaller seeds to the mix, such as a premium wild bird food mix (useful for conditioning the Jirds coat before a show) To this a small amount of dog biscuits or cat treats can be added. I also add a few of the larger nuts such as almond or walnut, just enough to be regarded as a treat on a weekly basis. The nuts can occasionally be left with their shells on, just partially crack them open. Apart from being good for the teeth, the de-shelling promotes foraging activity for the Jird. During the spring, summer and autumn months we supplement the staple diet with fruit and vegetables on a once or twice a week basis, and add alfalfa in a small quantity to the staple diet.
Fruit and Vegetables

The Shaws Jird benefits from supplementation of fruit and vegetables in the diet. Try to buy organic whenever possible. If this isn't possible thoroughly wash and peel all fruit and vegetables before using. Anything not eaten can be removed an hour or two later to prevent disease. Here's some fruit and vegetables that we have found to be firm favourites:
Broccoli
Curly Kale
Baby Leaf Spinach
Large Leaf Watercress,
Carrot
Dark Cabbage
Pak Choi
Cauliflower
Peas (plus pods)
Apple
Grape
Pomegranate
Banana
Dried Apricot
Raisins
Asst. Nuts
Sweetcorn
Treats

There are lots of things you can feed your Jird as treats, but you should try to avoid too many wet treats, i.e. high moisture content food such as fruit and vegetables, and give these on a once or twice a week basis. Make sure that any uneaten fruit or vegetables are removed promptly to prevent any disease. Also avoid treats that have too much sugar, salt, or preservatives in them, an excess of these are bad for humans, let alone gerbils!
Some treats enjoyed by Shaws Jirds are: Natural Cereals, Plain popcorn, Dry Toast, Plain Biscuits, Kashi, Ryvitas, Plain Corn, Bran Flakes, Dog Biscuits, Cat Treats (dry), Small amounts of Cheese, Small amounts of Cooked Chicken, Coconut (only very small amounts, extemely high in saturated fats)
Of course there are also the ready made treats that are available in the food section of pet shops, but they are mainly designed for hamsters (diet wise), and are often high in sugars and fats. Also it's much cheaper to use the things you have available in your own kitchen.
Live foods are also available, e.g., mealworms and waxworms, and are best fed under supervision, as any larvae that gets uneaten inevitably ends up buried under the substrate and emerge as either large black beetles or moths a while later. I personally don't use live food and offer them high protein in other forms, such as the dog biscuits or cat treats occasionally.
Just remember that all mentioned above are regarded as treats and not the staple diet, so never give too much in one sitting, or give too often.